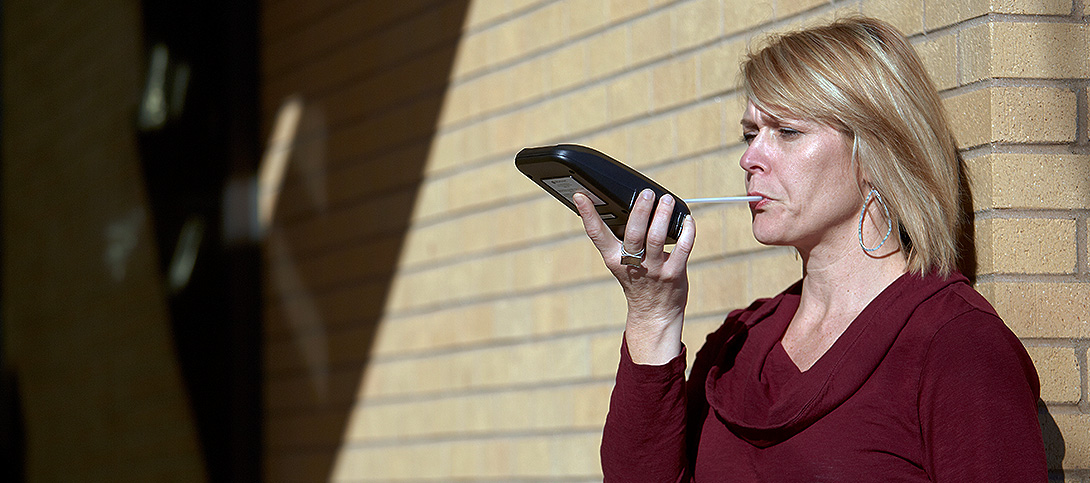 A Flexible Option for Alcohol Testing
SCRAM Remote Breath® is the world's first handheld, wireless, portable breath alcohol device with automated facial recognition and GPS with every single test. It's a sophisticated breathalyzer for lower-risk offenders or those who have earned less intensive monitoring and is the most flexible option in breath alcohol testing on the market today.
Automated Facial Intelligence
One-piece, handheld, cellular
Proven fuel cell technology
GPS location with every test
Client text message reminders and notifications
Rugged, built for corrections
Random, scheduled, and on-demand testing

See SCRAM Remote Breath in Action
---
"The SCRAM Remote Breath device was a wonderful thing to have. It proved to myself that I can do this, most importantly it saved my marriage."
—SCRAM Remote Breath Participant
---
Automated Facial Intelligence
The first and only automated, intelligent bio confirmation system
Government security grade facial recognition software—not just photos
Automated matching—reduces manual review of photos by 90–95%
High-resolution images—clear photos of the 5–10% you do review
Scalable & Manageable—significant reductions in the staff time required to confirm identities
Real-time notifications with automated, simultaneous client verification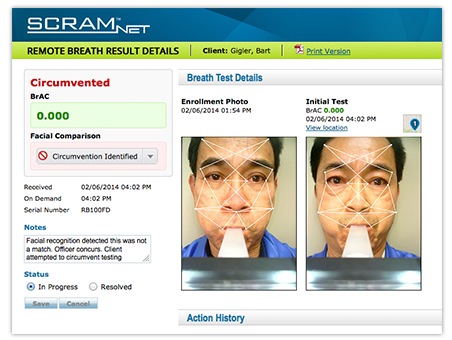 ---
GPS With Every Test Type
Stores test results and a GPS location with taken and missed tests—a feature that's proving valuable for making sense out of the most frequent alert type in remote breath testing: the missed test.
STORE & FORWARD
As the only device with STORE & FORWARD, SCRAM Remote Breath can store up to 48,000 test results when out of cell range and forward them automatically when service is reacquired.
On-Board Test Schedules
Remote Breath stores test schedules in the unit and prompts clients when it's time to test, whether or not they are in cell range—making it the only true one-piece unit on the market.